Description
Oscillating Bone Saw
Standard Configurations:
Handpiece + 2 Batteries + Electrical Charger + Sterilizing Channels + 2 Saw Blades  Package : Aluminum Box
Main Features:
Main unit can be sterilized by high temperature and high pressure up to 135C Powerful, portable, variable speed control without step, precise and stable.
Motor is made in Switzerland.
For all kinds of joint operation.
Technical Data :
Motor : Working voltage 14.4V Output power: 80W
Charger: Input voltage: AC 110V-240V, 50Hz Output voltage: 14.4V
Charging time: Half Hour
Battery: Voltage: 14.4
Charging time: half Hour Capacity: 1 hour

Needn't to be sterilized

Saw frequency: 0—15000 times/minute ±20%
Oscillating amplitude: 3-8°
Noise Level: 70 DB
Features
Voltage: AC 100~240V / 50~60Hz
Frequency of Saw > 15000 RPM
Highest Raisable Temperature ≤ 30 C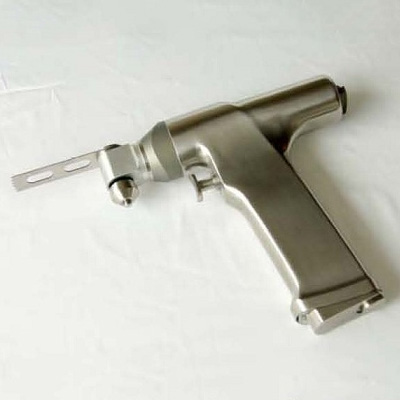 How to use Oscillating Bone Saw
Introduction and Use of the Product 
Product Introduction:
The OTS-1 Medical Electric saw product is designed by the need of cutting the bone structure in the surgical operation. It is featured in easy operation, gearless variation in velocity, alternative rotation and can be sterilized autoclavably. In this article you will read detailed information of how to use oscillating bone saw.